what we did
Branding
Website
Digital Strategy
Creating a Digital Presence for Grocon's Parklands
The redevelopment of Parklands is one of the most significant urban renewal projects ever undertaken on the Gold Coast.
Grocon's vision for the $550 million master planned development features 1,252 dwellings with a mix of apartments and townhouses, a 5,840m2 retail precinct, green and landscaped spaces built around a 'Village Heart'. Strategically located on prime real estate within the Gold Coast Health and Knowledge Precinct, three kilometres from Southport CBD and five kilometres from Surfers Paradise.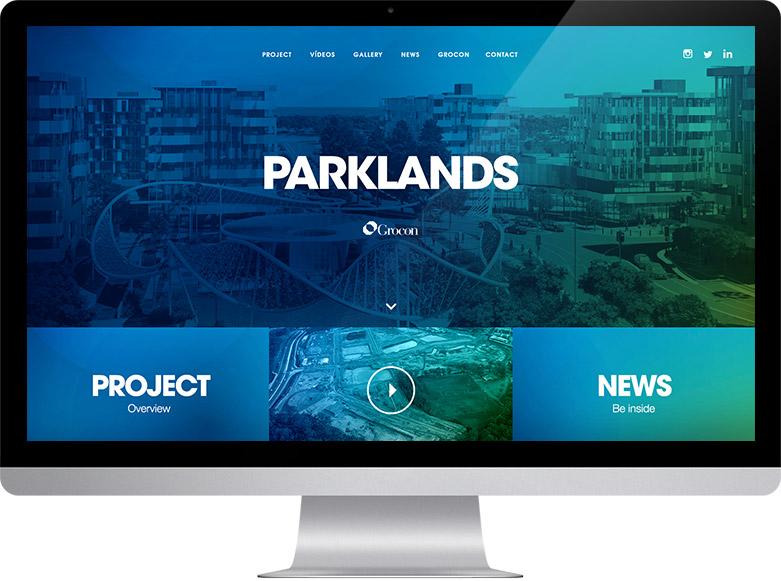 "Blink captured the essence of the project perfectly. It was translated in a unique brand experience that helped us to be succeed in one of the most exciting projects we had worked on."
Mikayla Rose
Heartly's director
Grocon required an online space for Parklands that that clearly, effectively and stylishly categorised and communicated all information regarding its development, use, timeframe and progress, complete with image and video galleries and a news section.
First Blink went about revitalising the existing Parklands brand, choosing a strong and modern sans serif font and location images overlaid with the transparent Blue/Green Parkland colours (sky & parkland) to striking effect.
Custom icons and illustrations are used to communicate facts and other important information in an interesting and enjoyable manner, making the important and information rich Parklands website an easy to navigate news source.